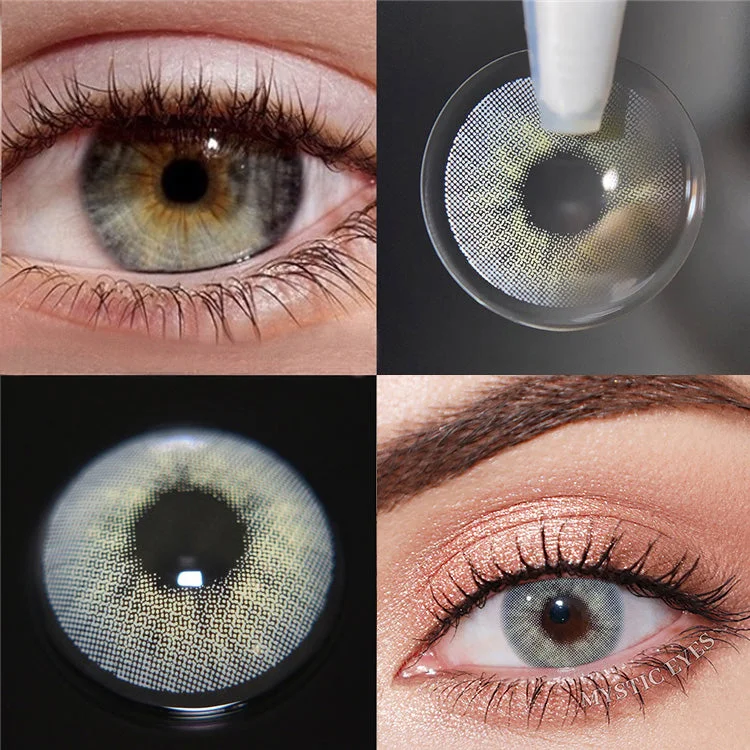 Description:
Lenses on different eye colors will show different effects.
Pictures for reference only.
Change your eye color with this amazing soft contact lenses! Make Your Eyes Look Bigger.

Features:
It helps change the color of pupils, makes your eyes look bigger and get you more beautiful.
Nice for Party, Cosplay, Fashion Show, Halloween Makeup, etc.
Safe, comfortable and durable, can be used for 6 months
Fashion and popular among female and male.

0.
Sit the lenses in contact lenses care solution for a minimum of 6 hours before using the lenses.
1.
Wash your hands with soap (preferably non-perfumed, anti-bacterial liquid soap), then rinse and dry your hands with a lint-free towel.
2.
Check that the lens isn't inside out. To do this, just put the lens on the tip of your finger and hold it up to the light. If the edges flare out, it's inside out. It should look like a bowl with straight edges.
3.
Using your right hand gently hold your upper eyelid with one finger so you don't blink or get your eyelashes in the way, and carefully pull down your lower eyelid with your other fingers.
4.
Move the contact lens toward your eye steadily. Look upward as you place it on your eye, slowly release your eyelid and close your eye for a moment to allow the lens to settle. Repeat for your other eye.
Mystic Eyes is happy to offer multiple shipping options for your convenience.
We will make every effort to deliver your package as soon as possible, however, additional time may be required due to peak selling season and customs clearance issues. Thank you in advance for your patience.
Package Processing time
After Payment to Shipping out: 3 business days
Delivery time: After shipping out and refer to the following list
If you need the package urgently or the address is temporary( less than one month), DON'T BUY.
We have no overseas warehouse so far, any packages failed in delivery will be destroyed at overseas local post office and never return as the logistic tracking site claim.
USA SHIPPING COSTS
| | | |
| --- | --- | --- |
| ORDER TOTAL | After ship out date, it takes 7-15 business days to deliver | |
| Less than $29 | $7.90 | |
| $29+ | FREE* | |
| Delivery Method | USPS for the Last mile | |
*Shipping locations to Hawaii, Guam, Puerto Rico, and Alaska need 15-25 business days to deliver.
Other CUSTOMERS
The list delivery time is just for reference and is sorted from our history order. And remote districts in the listed countries will deliver by SingPost and take more time.
| | | |
| --- | --- | --- |
| ORDER TOTAL | Fee | Delivery day |
| Less than $29 | $7.90 | |
| $29+ | FREE | |
| Country | Last-mile delivery company | Delivery days |
| UK | Royal Mail | 7-12 business days |
| Canada | Canada Post | 9-16 business days |
| Mexico | MailAmericas | 10-17 business days |
| Germany | DHL | 7-15 business days |
| Australia | Australia Post | 8-15 business days |
| France | La Poste | 8-15 business days |
| Italy | Poste Italiane | 10-15 business days |
| Spain | Correos | 10-15 business days |
| Japan | EMS/佐川急便 | 10-15 business days |
| Saudi Arabia/UAE | Sky Express | 7-14 business days |
| South East Asia | Singapore Post | 7-14 business days |
*Unfortunately, we cannot ship to the following countries/regions:
Afghanistan, Bangladesh, China, Congo - Brazzaville, Congo - Kinshasa, Cook Islands, Costa Rica, Ecuador, El Salvador, Ethiopia, Fiji, French Guiana, French Polynesia, French Southern Territories, Gibraltar, Honduras, Hong Kong SAR, Iraq, Isle of Man, Kazakhstan, Kiribati, Kosovo, Latvia, Macao SAR, Mauritius, Morocco, Nauru, Nepal, New Caledonia, Nicaragua, Niue, Norfolk Island, Papua New Guinea, Pitcairn Islands, Samoa, Solomon Islands, South Africa, South Georgia & South Sandwich Islands, South Sudan, Sudan, Taiwan, Timor-Leste, Tokelau, Tonga, Tuvalu, Ukraine, United States (3 of 62 states), Uruguay, Vanuatu, Venezuela, Wallis & Futuna
*Please note that due to the COVID-19 pandemic, shipping may take longer than estimated. If you have any questions, please give us a shout at info@mysticeyesofficial.com. Our customer service team will do all they can to help you!
Please also note that it may take up to 24 hours for your tracking link to update. If you did not receive a shipping confirmation or you have any questions about your order, send us an email at info@mysticeyesofficial.com.