Everyone goes for monochrome in 2021, and so you are. How colored contact lens could be used for MAJ
Jan 13, 2023 by EYES MYSTIC
Spoiler alert⚠️ No matter what colors, styles, mediums you're intended to go for, we're got you covered. Whether it'd be a makeup trend or fashion trend, or both! You probably just need to sit still, see what ideas we present, and be ready to slay these monochromatic looks suggestions! Monochrome will never go out of style. It's the use of just different shades of the same color scheme to create bolder, more statement-making styles without thinking about the other colors that might be worn with it. Monochrome takes less time to pull together and can totally turn heads if done right. It's not limited to just plain black or white when it comes to monochrome color schemes ( boring! ). By incorporating darker or brighter colors in your monochromatic shades, all you'll need is one fun statement piece to make your whole look pop with personality! First thing first, it starts with the makeup. Monochrome makeup is definitely sooo 2021. Though matching your face with one shade range might sound boring, this year, this trend is making a comeback and sparks people's interest, especially internet creators, when they could use their creative input and techniques to nail any looks. Let's all take a look! 
1. BEIGE/NUDE TONE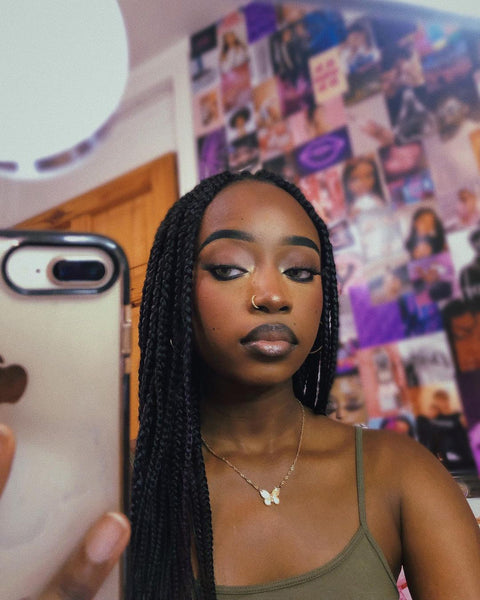 Well well well, that 90s hottest babe vibes jumped out! She served us just naturally full-on neutral tones, beige makeup that's just everything! The final is smooth, effortlessly badass, and the colors blended well together from the eye to the cheek, lip liner,...The hint of black liner lip she wore towards the end on the other hand—perfectly blending in with her skin tone—certainly made us all fall just for beige even more. Not only that but all the neutral tones she combined altogether created such a dope vibe: cool and edgy on first sight and just everything natural layered on top! The girl was seriously slaying some faces back then! Just pretty! 
She is using: Hidrocor Ocre Natural Colored Contact Lenses 
2. BLUE TONE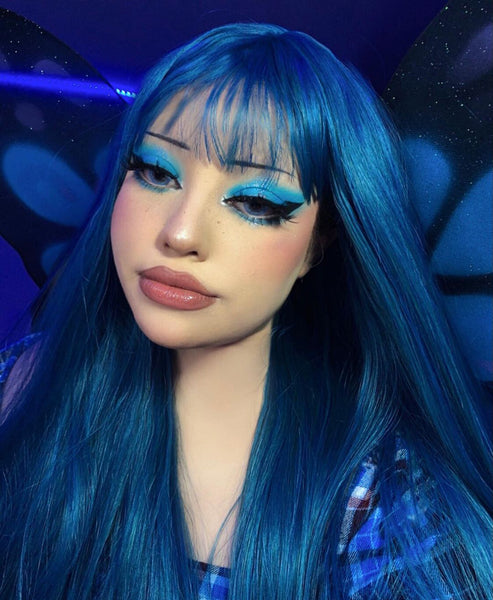 Wow, she took blue to another level! Period! Who else doesn't dig this power puff blue girls look? All eyes are on her shimmering arctic blue eye-shadow! The darker blue shade of her lenses, together with thick curly eyelashes, soft pink touch on the cheek to add a little bit of warmth, just completed this whole look! She even went further with the wigs and things, totally here being an unbothered blue babe! 
She is using : Opal Grey Colored Contact Lenses 
3. PURPLE TONE
#lilacs #PurpleTeam rises. Purple team raise your hands! This dreamy, grunge lilac look is just a cultural reset! Just magical, period. 
Wearing: Sakuya Halloween Contact Lenses
4. GREEN TONE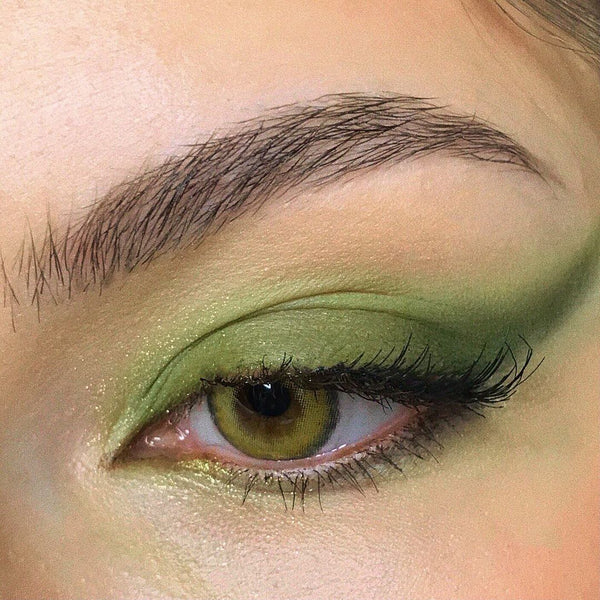 Come on. We're in 2021 when green is everywhere and not considered a lowkey, hard-to-slay color anymore. Just look at her! The level of matching between all shades of green on her eye-shadow and down to her lenses is unreal! Literally gives me ethereal, earthy vibes when the heavenly secret garden's gate just opens to look at her eyes! She nailed the look! 
She is using: Sorayama Colored Contact Lenses
Sooooo, that's the end of how monochromatic makeups could actually serve looks and get you creative with a wide range of shades using one color. Wait, if you're want to take the monochrome trend on another level, and push yourself even further to be stand out. Stay cooling, keep scrolling because we're gonna talk about fashion right now. Like, how fashion items could take a MAJOR part in your overall look, even full-on with your makeup. Or if you're too lazy to do makeup, you can just grab a fit and accessorize your look with our lenses for more fun, Instagram "one-color mood for a lazy day" kinda photos. And don't freak out, we already picked popular/best selling colored contact lenses from our store ( and should be trendy colors that match the 2021 fashion trends, too! ) that we think would vibe well with whatever color you're feeling when choosing your fits. We even created boards for that. 
BABY BLUE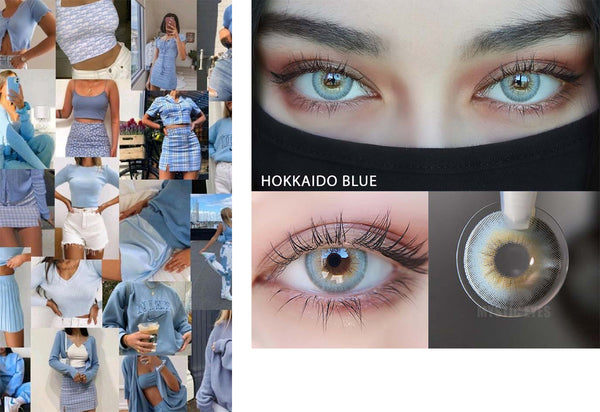 Okay, baby blue has been blowing up all over the internet since 2020 and hasn't stopped then because people just LOVE the colour. The light, cool blue shades just breeze viewers' eyes, and they crave this tone. We aren't the exception. So we recommend this Hokkaido Blue, which is all blue, jazzy, and obviously matches the look if you're feeling this baby blue colour. 
Lens color: Hokkaido blue
SOFT BEIGE/TAN/BROWN MOCHA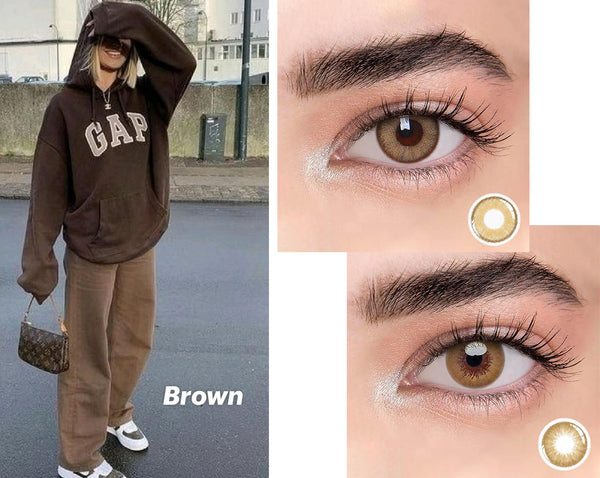 Not feeling blue? Just want to keep it neutral and calm and shows maturity? Fine! We have diversity here, period. These brown shades are not very too-the-face, but lowkey steal looks from people, especially in downtown coffee shops or quieter places where people aren't too hustling and talking. There are lots of brown-ish on the shelf, but we were carefully choosing these lenses as they can match perfectly with lighter or darker shades because their colours range is in the middle, so they're definitely here being versatile. 
Lens color: Dubai Brown, Latte Colored Contact Lenses
PIXIE/DUSTY GREEN

If Earth's palette was ever to get another upgrade, it would be in the form of the earthy tone she is wearing right here. There's no questioning the fact that green is still a colour that you can rely on if you want to stand out. One of the best things about green is the range of shades you can use. Deep, dark shades like olive, khaki, or forest green are very trendy this year. A lighter shade like mint, jade, or emerald is perfect for blending in. If you're looking for an alternative to bright blue, brown, or red, why not try out dusty and olive green? With the range of shades that green comes in, there's no excuse to not bring some green into your wardrobe, and if you want to, you can even find contact lenses that match your outfit perfectly. And yes, those really exist. Try looking at those contact lens. There are beautiful green shades, even we cannot decide which one is better, duh! Pixie green, Sorayama Green, Hidorcor Esmeraldr, Wildcat Green Colored